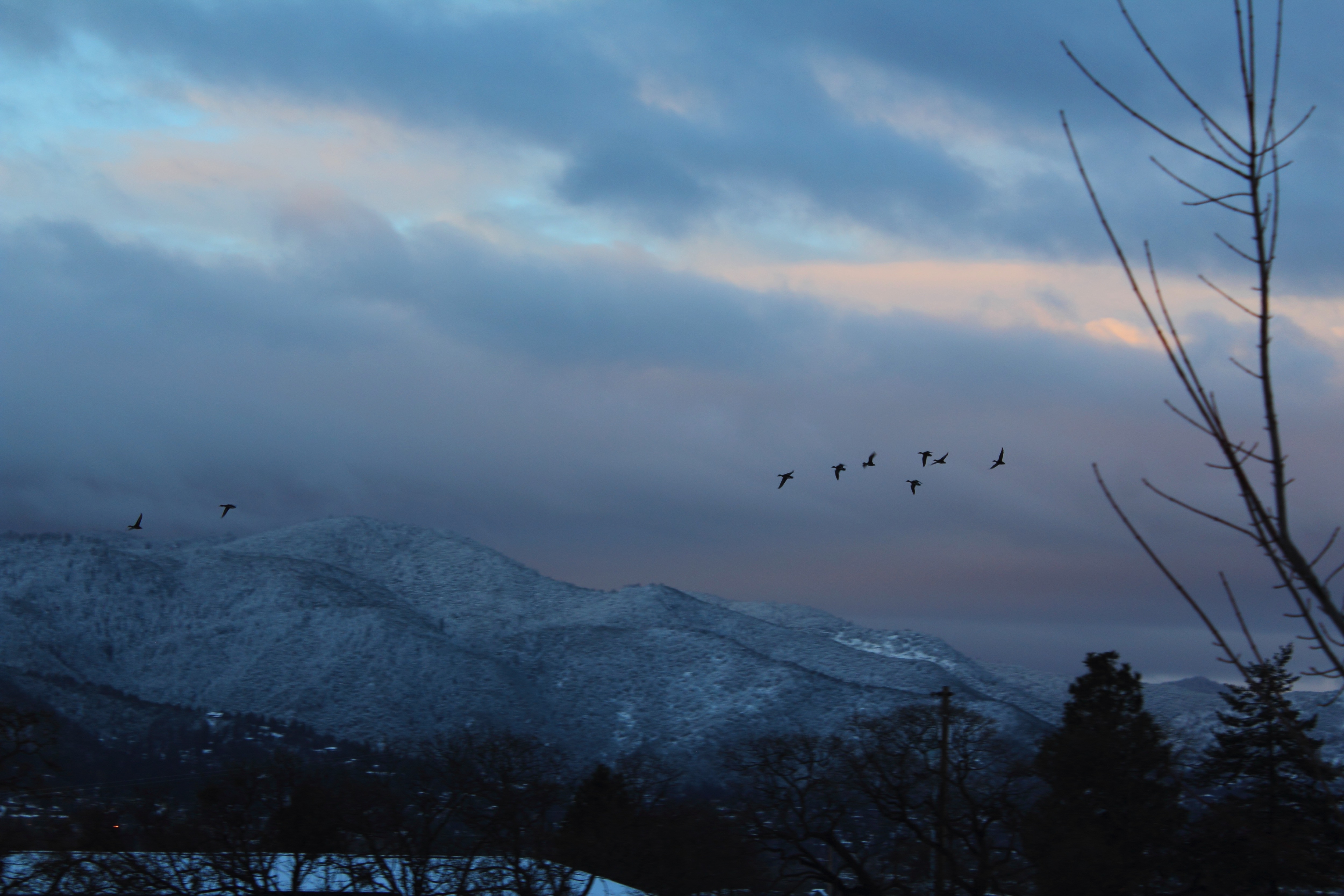 Ashland's Senior Program is being dismantled
What do you believe ... Words or Actions?
Words  APRC states that integrated senior social services will stay the same and the senior program is not being "dismantled."
Actions  The first actions APRC made was to destroy the senior program's integrated approach and effective social services. APRC laid off experienced Senior Center staff who have extensive knowledge and experience of its integrated social service senior program and replaced with inexperienced Parks and Recreation staff and volunteers. APRC also planned to move the senior center program management and physical oversight away from the Senior Center to the Grove; however, they later withdrew that recommendation due to public outcry.
Impact Dismantles the social services integrated program ... the hub of the integrated wheel ... and reduces the social services ... and removes the personnel who know the difference. Essentially shreds the seniors' safety net built up and maintained over 43 years.
and Senior Manager Christine Dodson's reputation.
Senior Manager Christine Dodson describes the Senior Program's integrated approach with Food and Friend's program (Meals on Wheels)
What is the real problem?
Differing Mission Statements  APRC and the Senior Program have different and conflicting mission statements:
Where the Senior Program's mission has been for the well-being and support of elders, the APRC's mission does not. APRC's mission focuses on park and recreation experiences.
Ashland Senior Program Mission Statement:
The Ashland Senior Program strives to provide a support system to the older residents of Ashland, helping to enable them to live more independently and to continue as contributing members of the community. The Senior Center provides a venue for social interaction through recreational and health related activities and educational opportunities.
APRC mission - in 2015-2017 budget:
The mission of the Ashland Parks and Recreation Commission is to: Maintain and expand park, recreational, and educational opportunities and provide high quality, efficient and safe services with positive experiences for guests and other participants while maintaining community participation in the decision-making processes and protecting the environment.
Listen to what senior participants say about the Senior Center
The dedicated Senior Program has been well run (with little oversight in the Parks Administration Division) and within budget for the past 27 years and was tracking to be below budget this year. It is amazing what the Senior Program accomplishes with the limited resources allocated to it. It has only 1.7 full-time equivalent employees and a $175,000 annual budget, which is 2% of APRC's total budget.
Ashland's Senior Program needs your support
Here is what Ashland Parks and Recreation Commission (APRC) subcommittee did on August 8th, 2017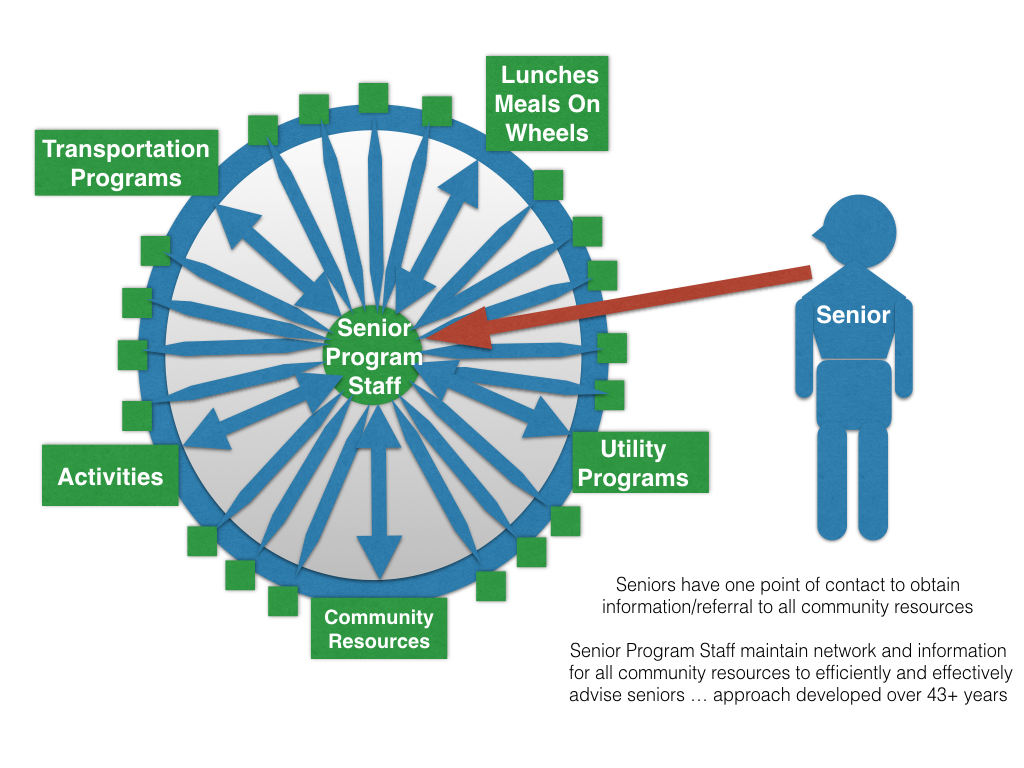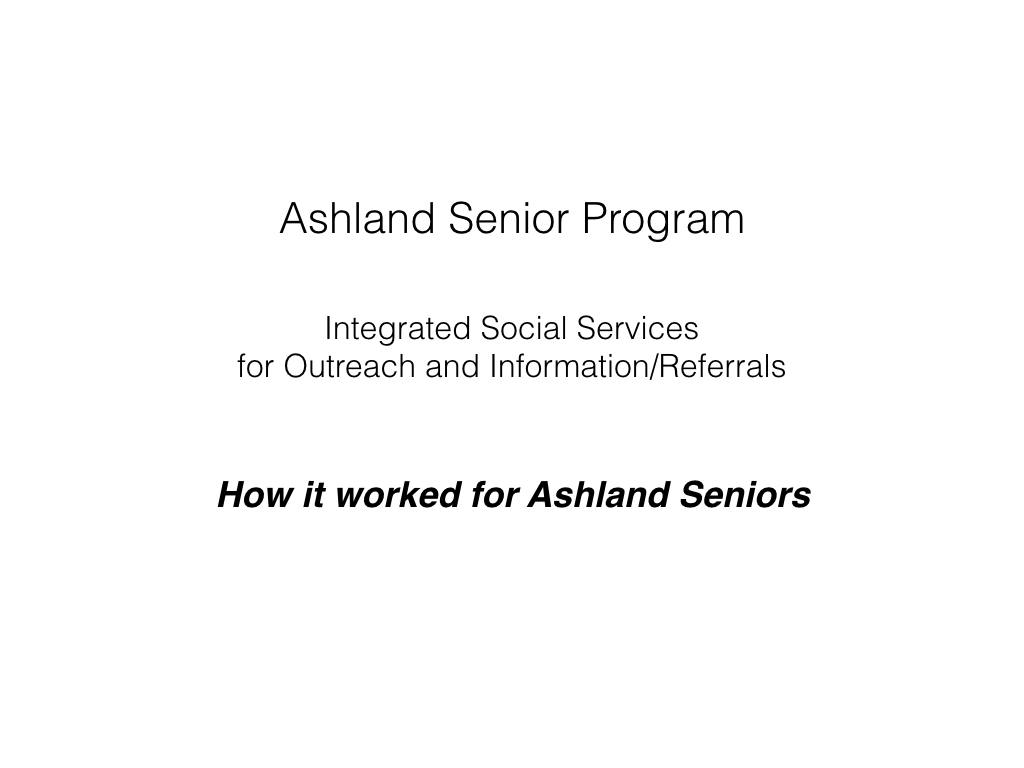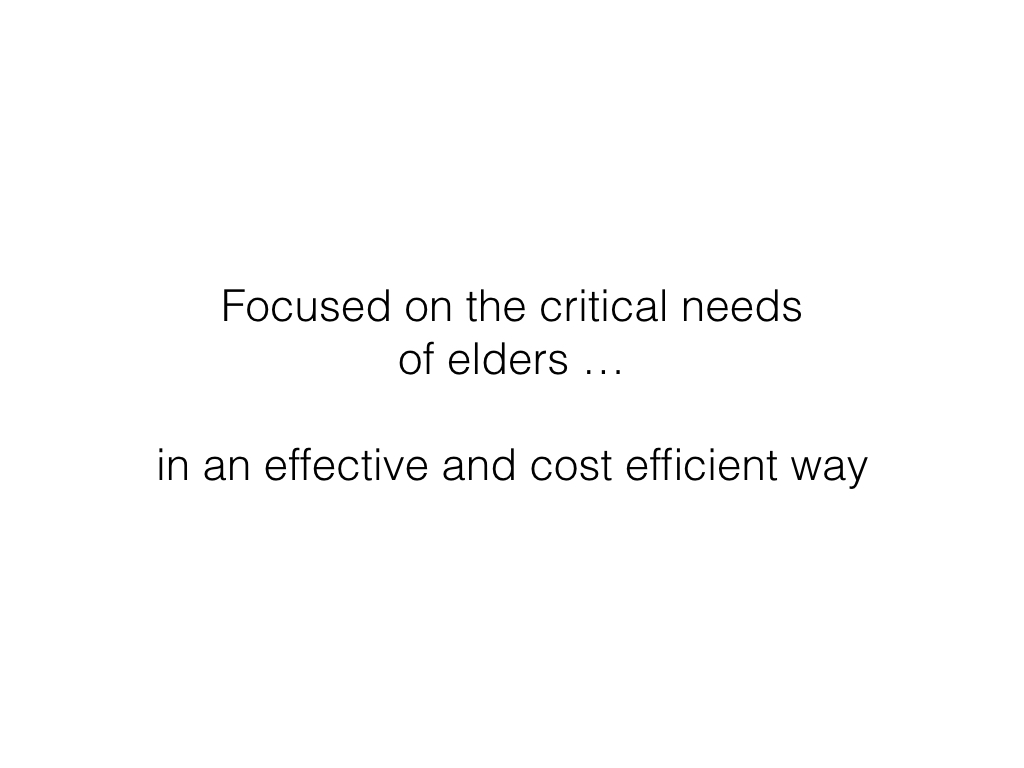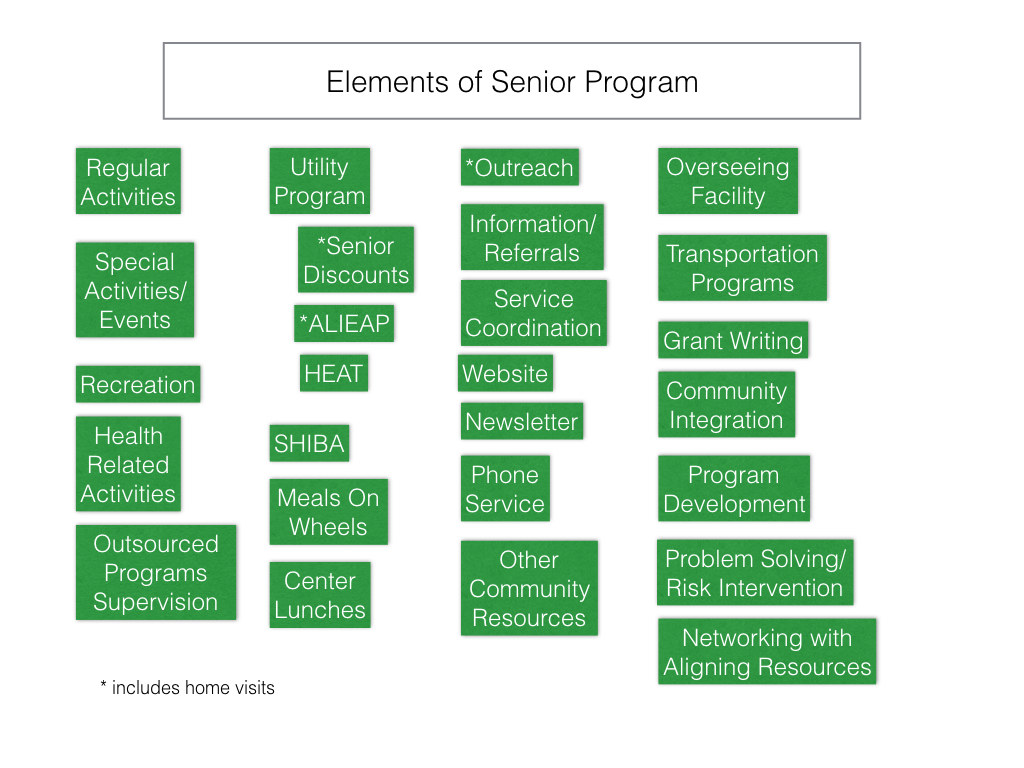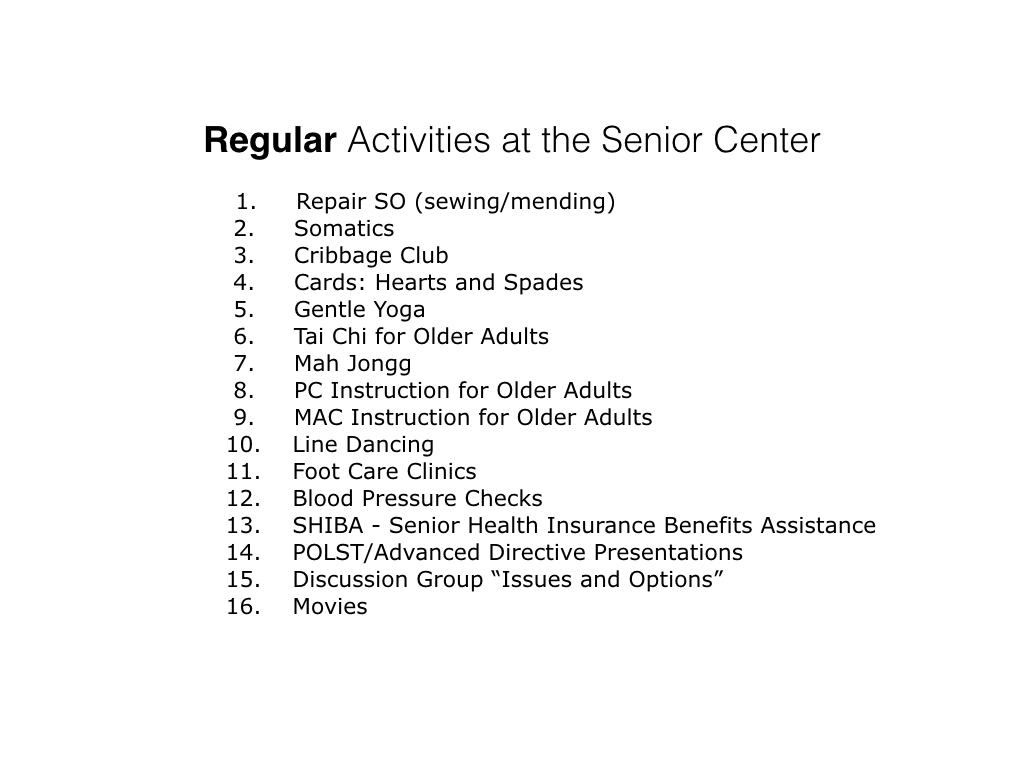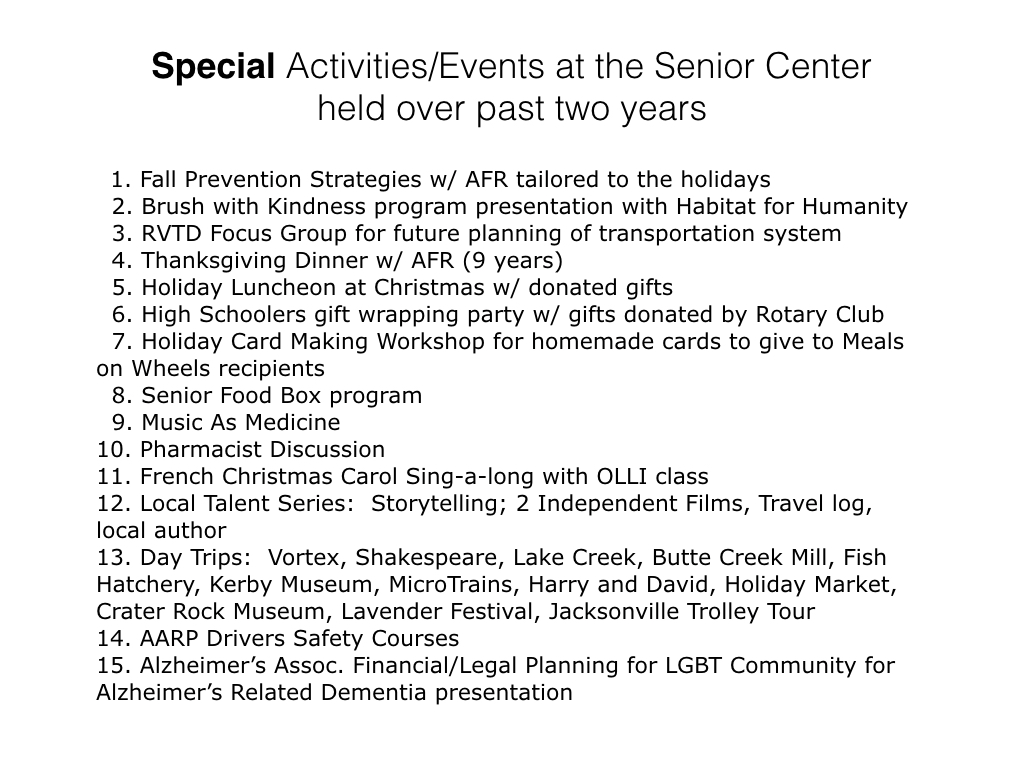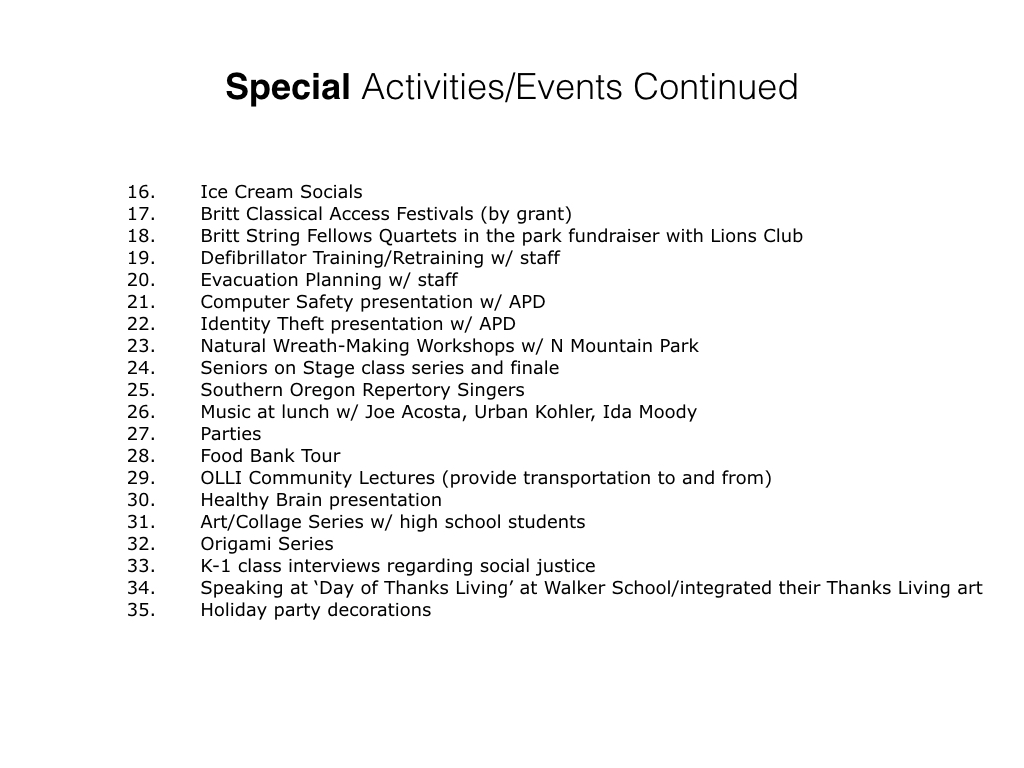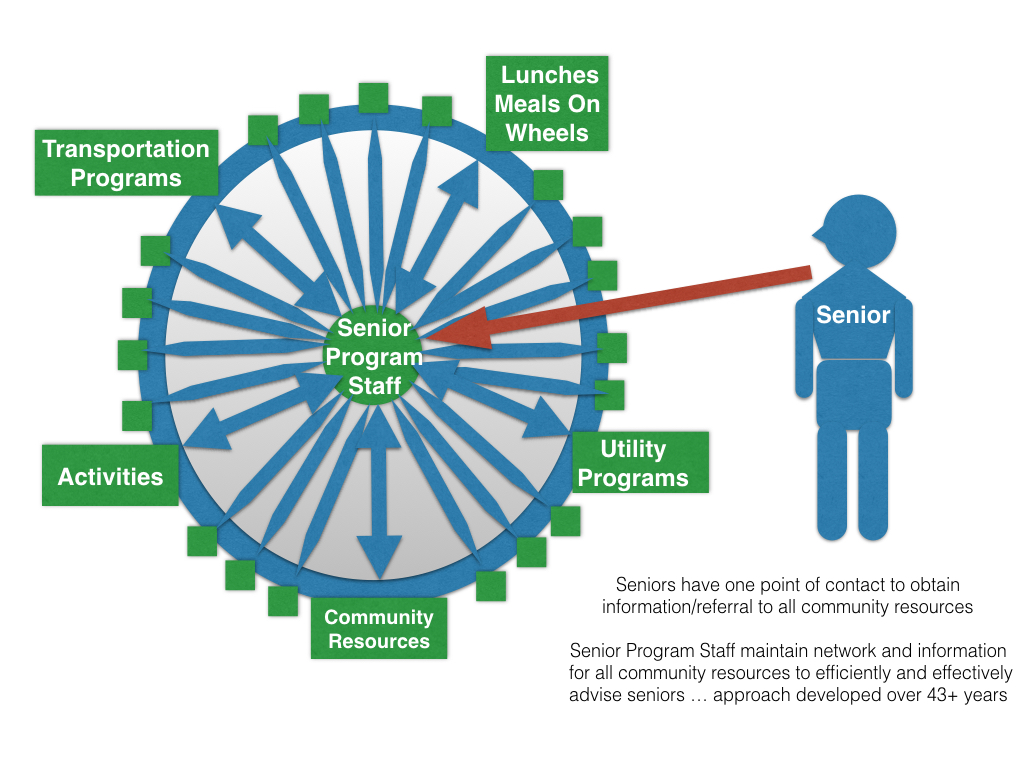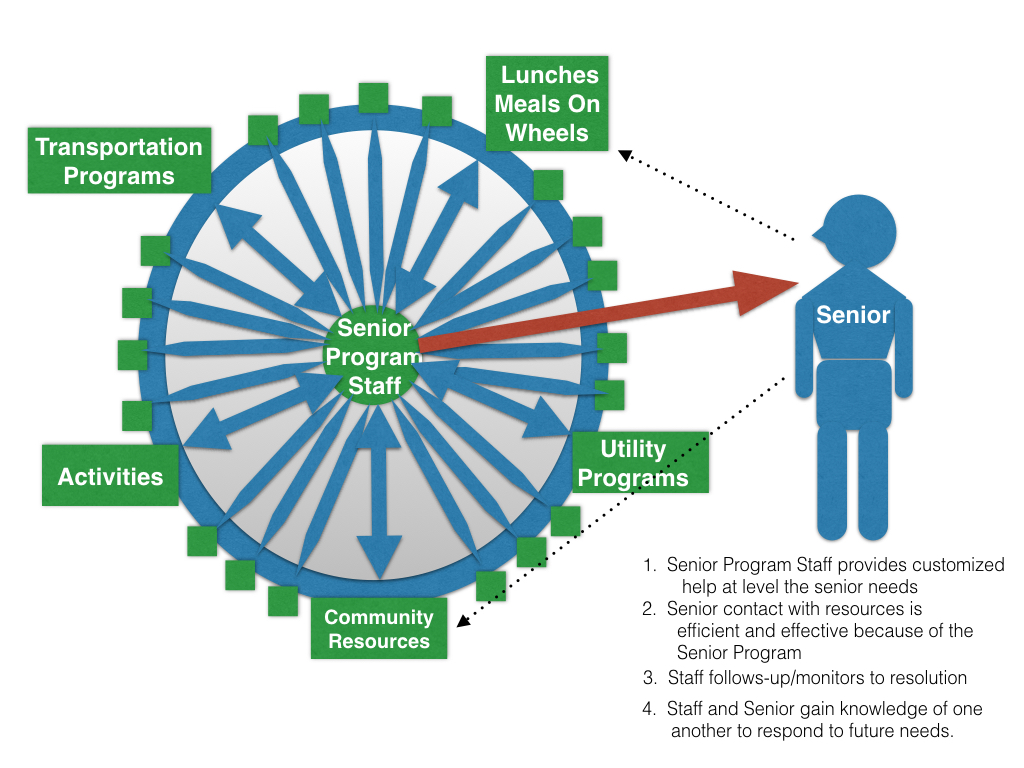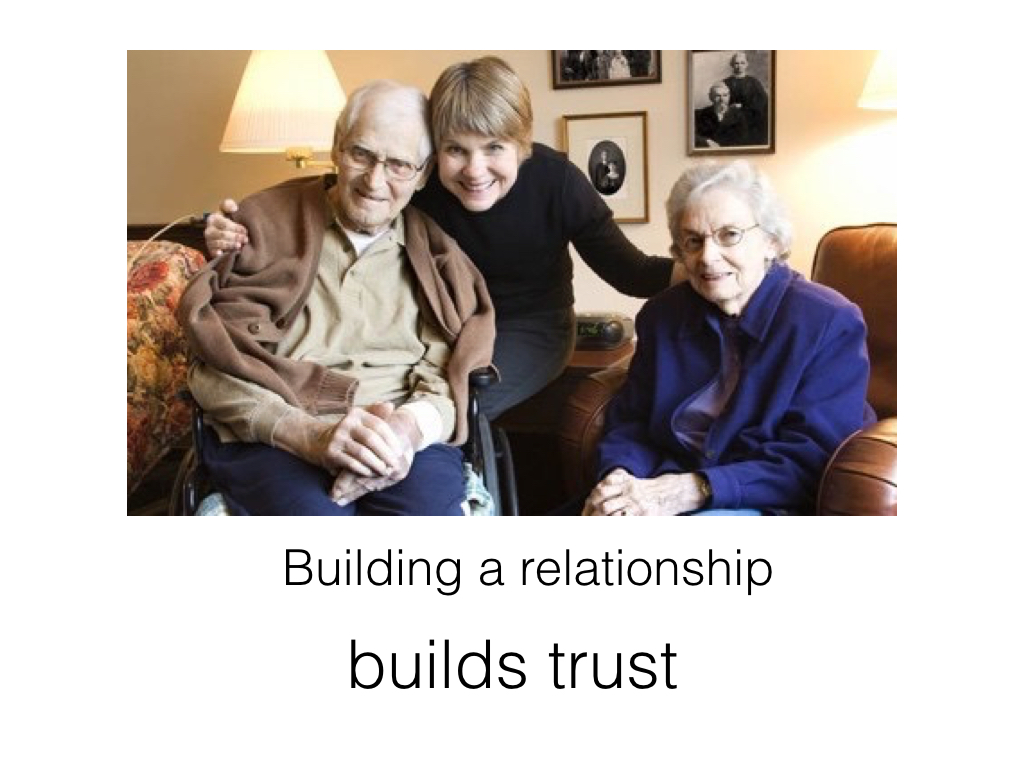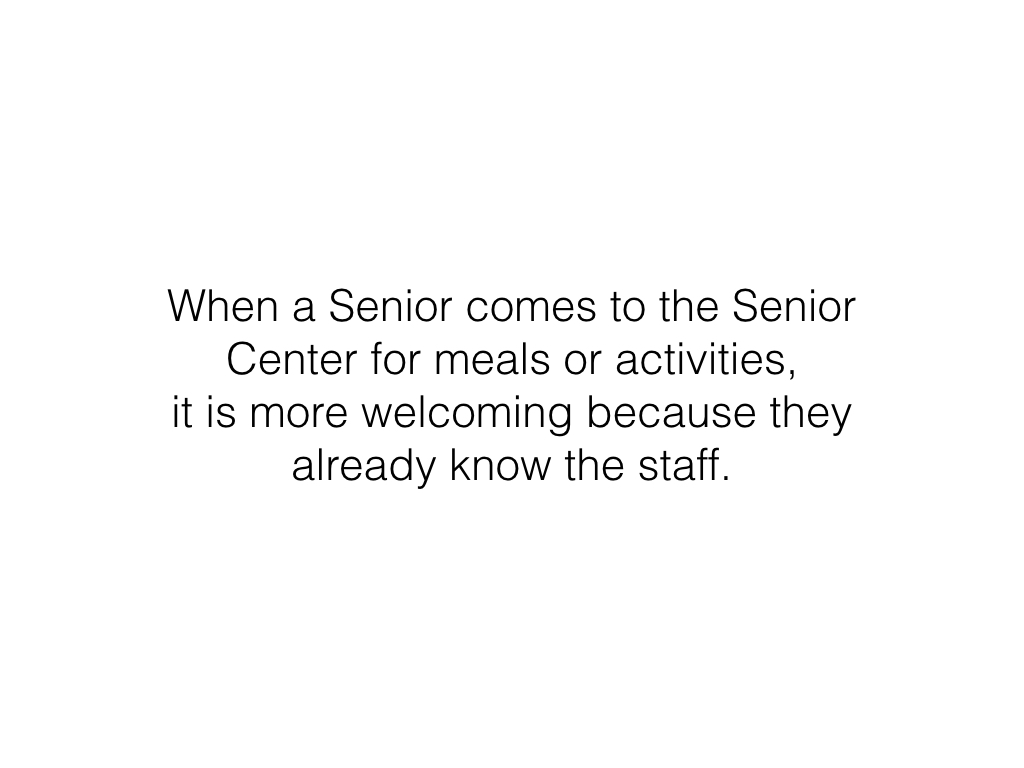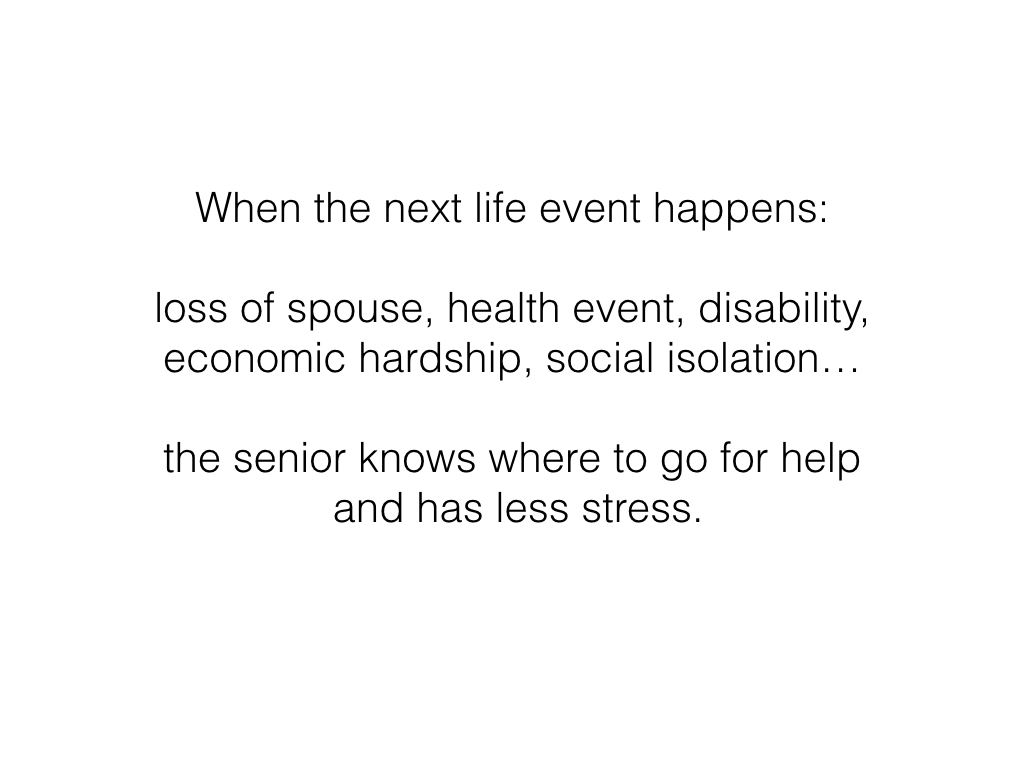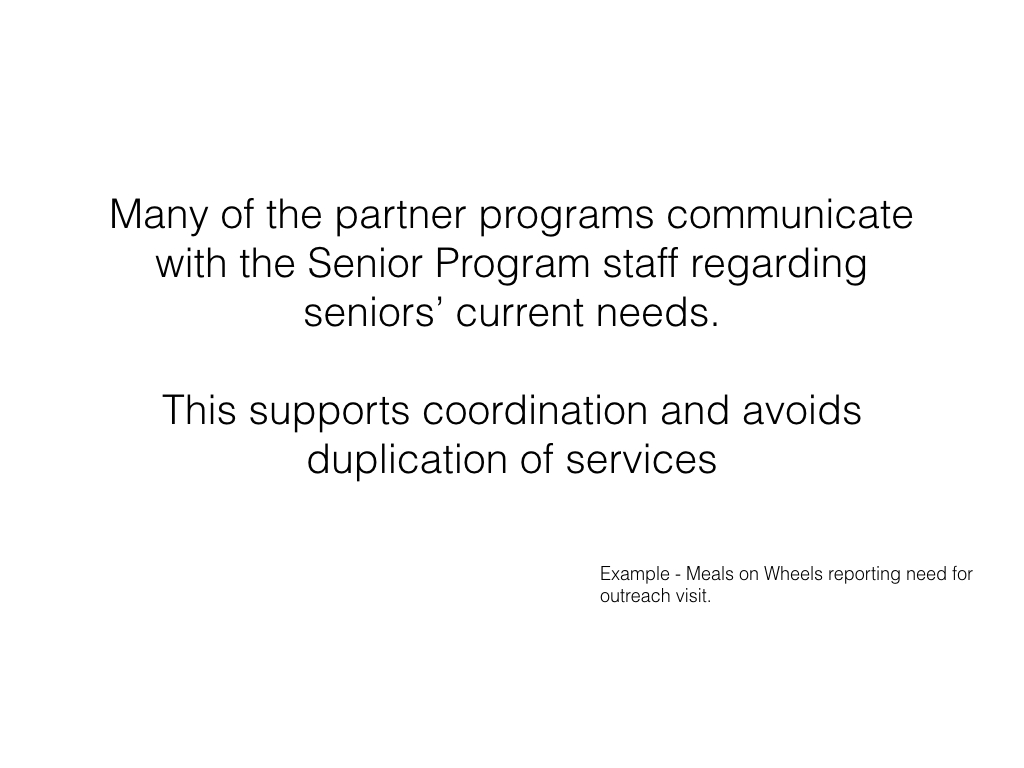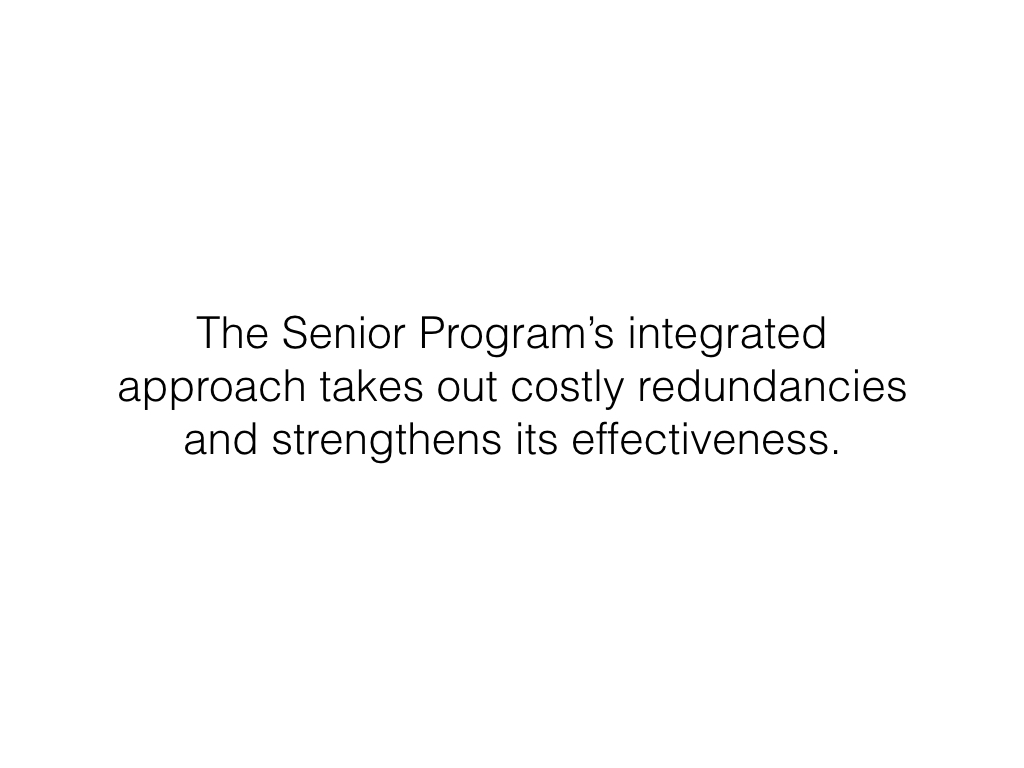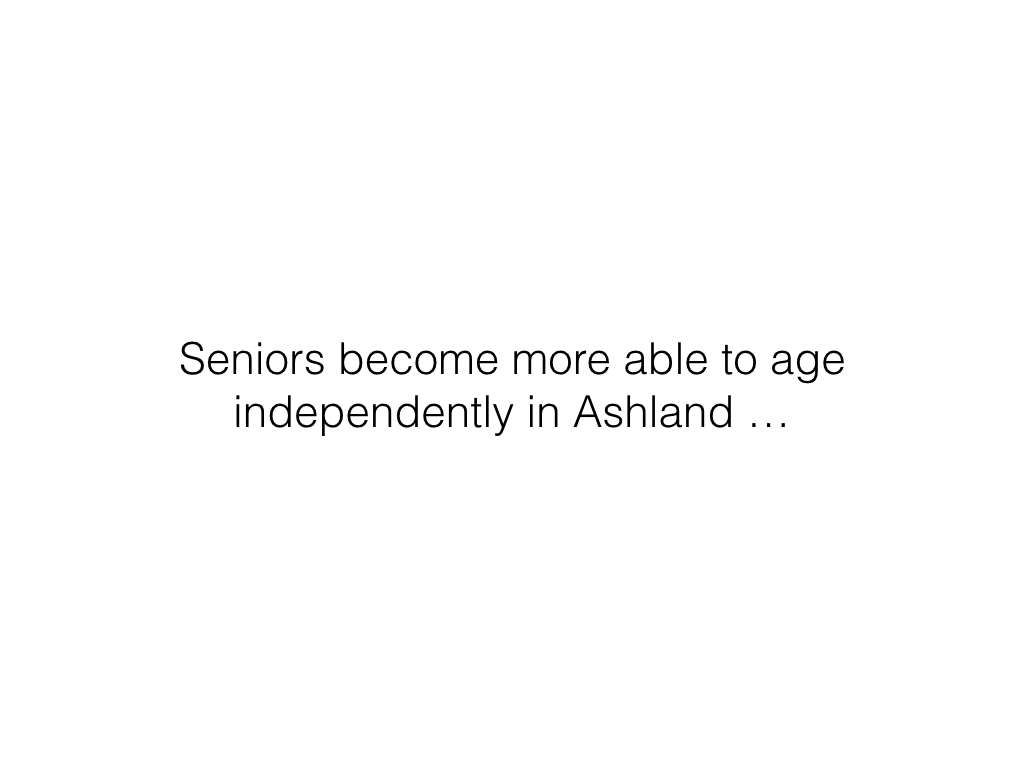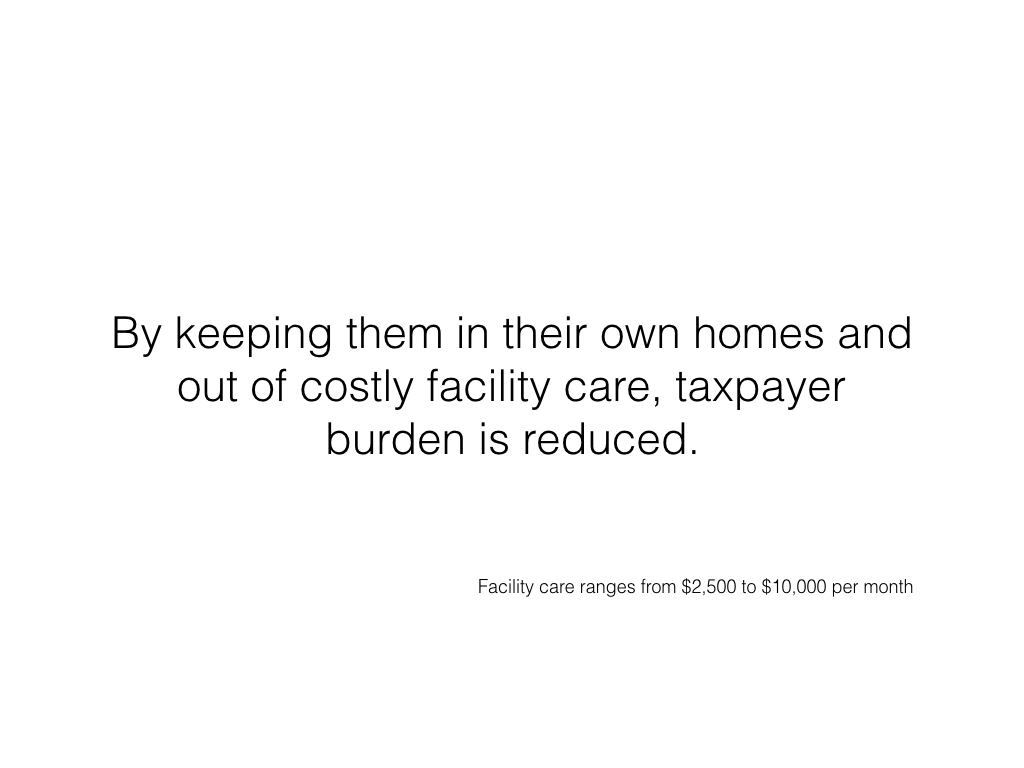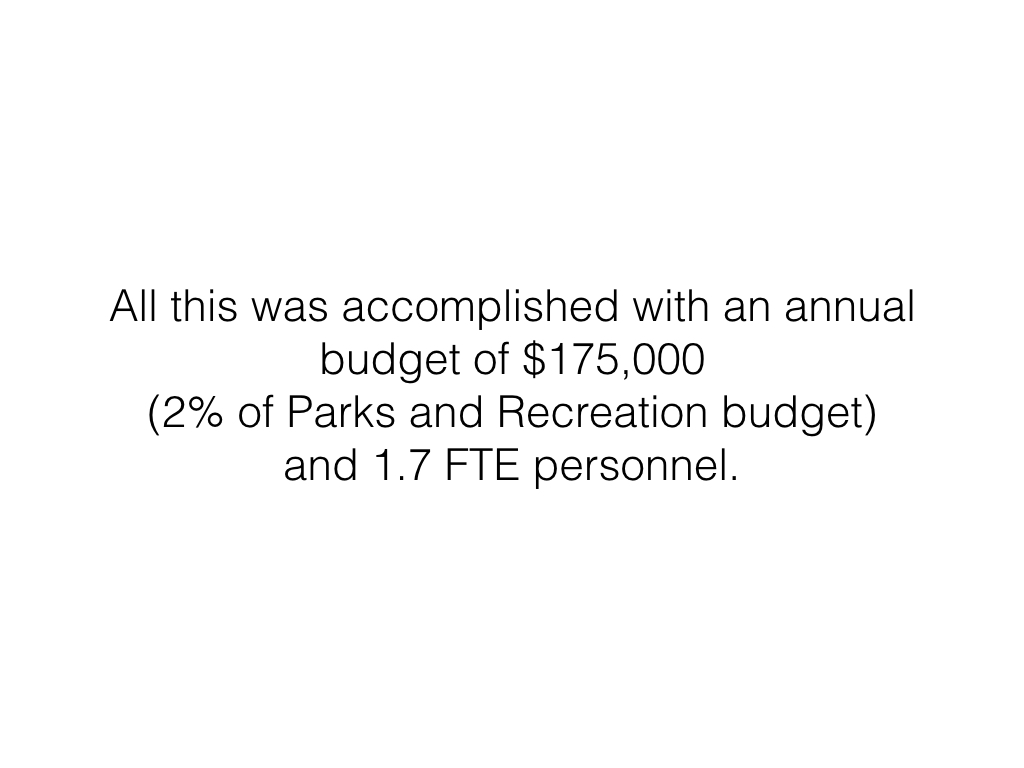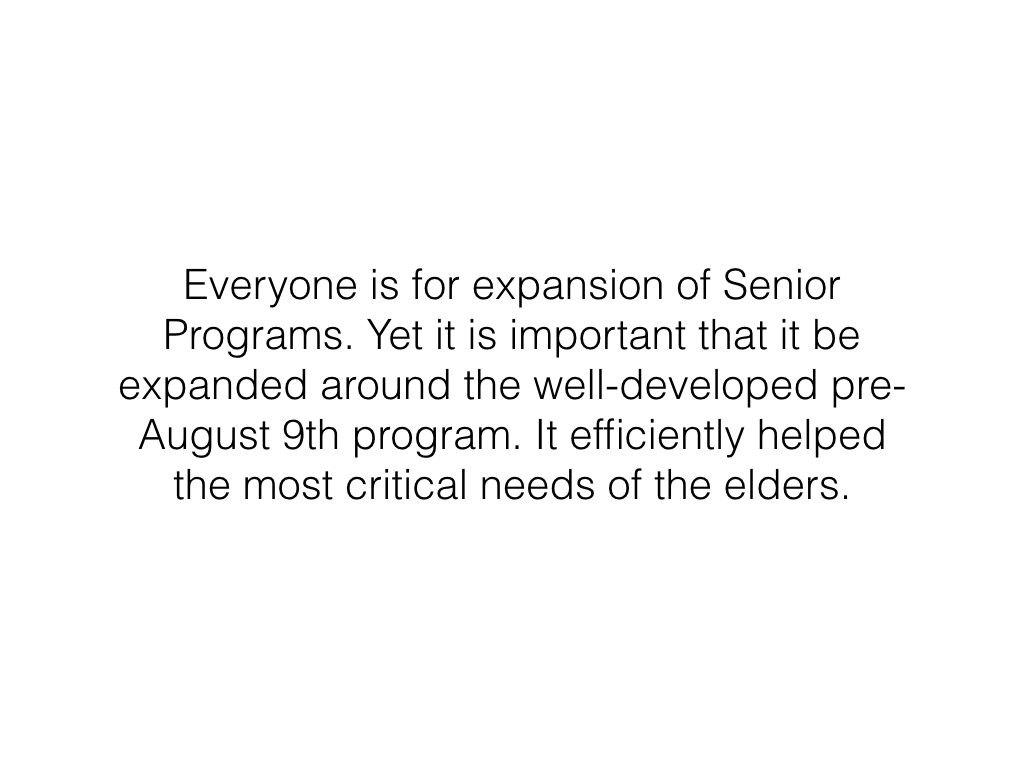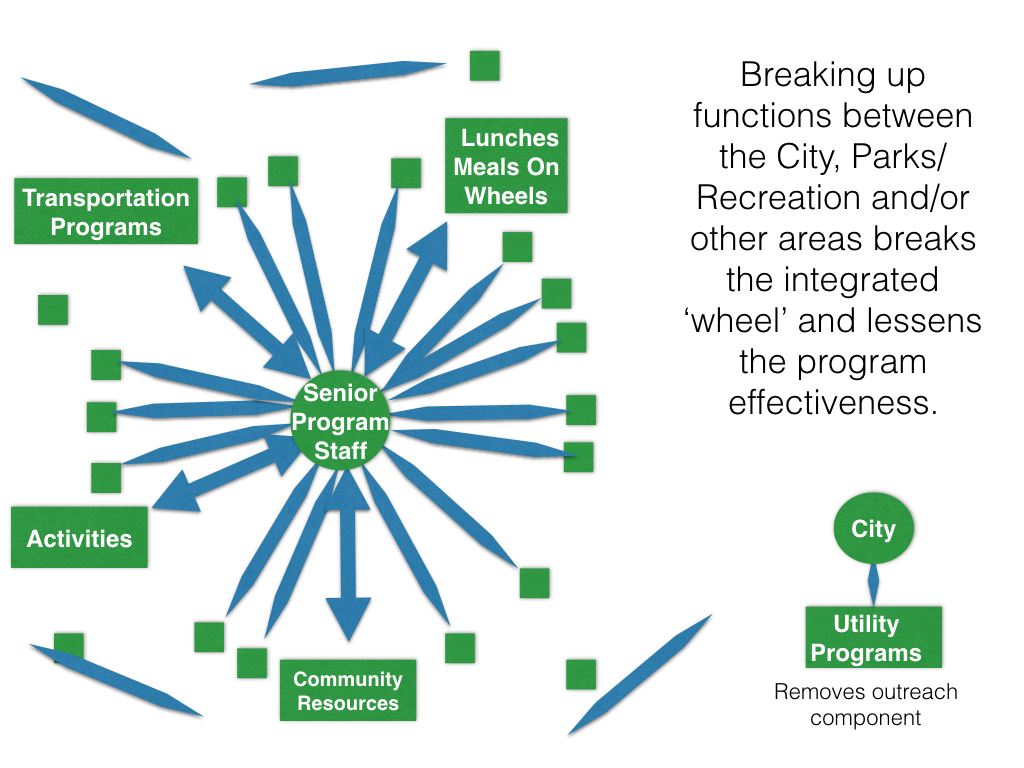 How the Senior Program effectively worked BEFORE changes
Slideshow below (click on arrows to right and left):
How the Senior Program was 'gutted' by APRC's changes Aug. 9th
Slideshow below (click on arrows to right and left):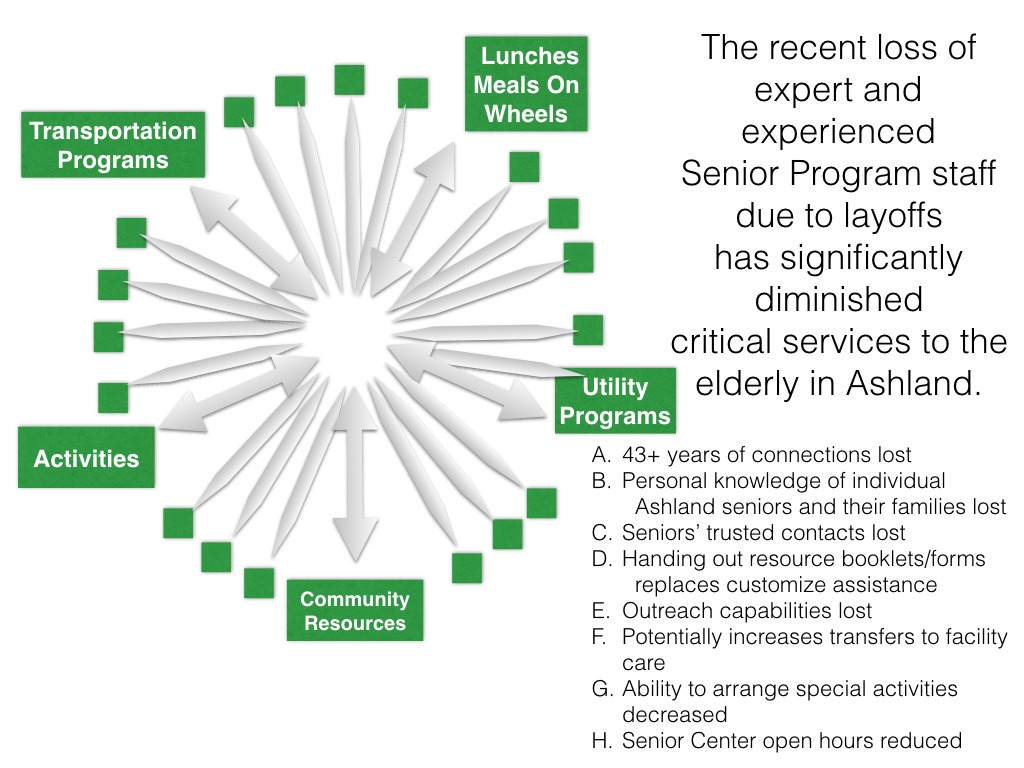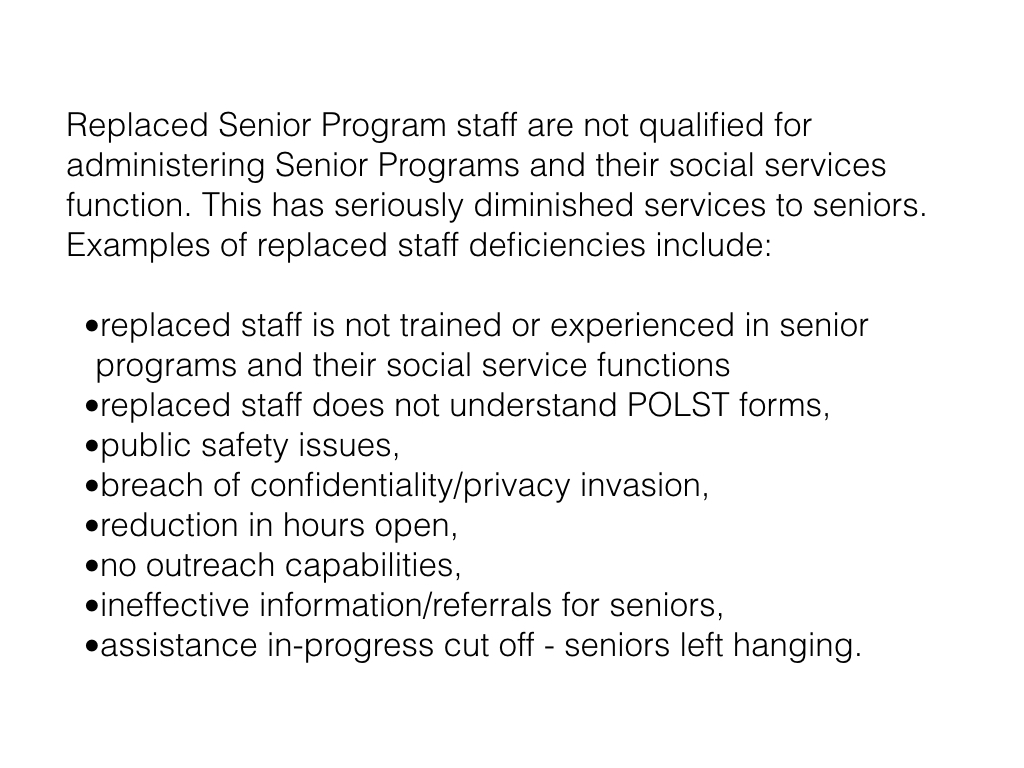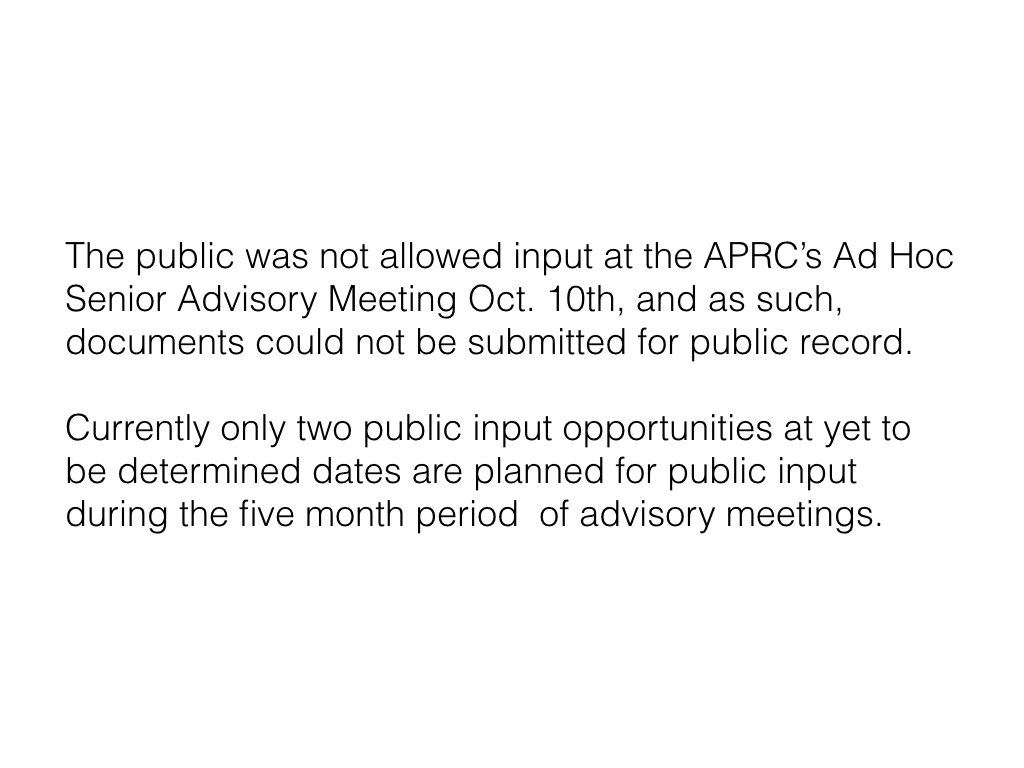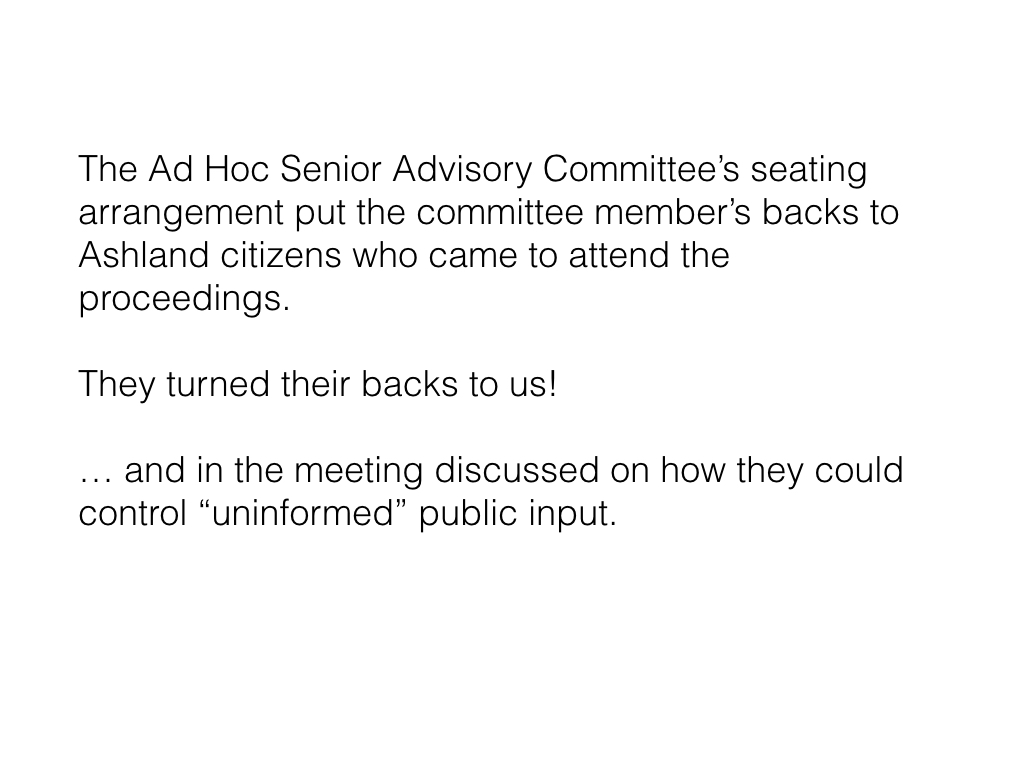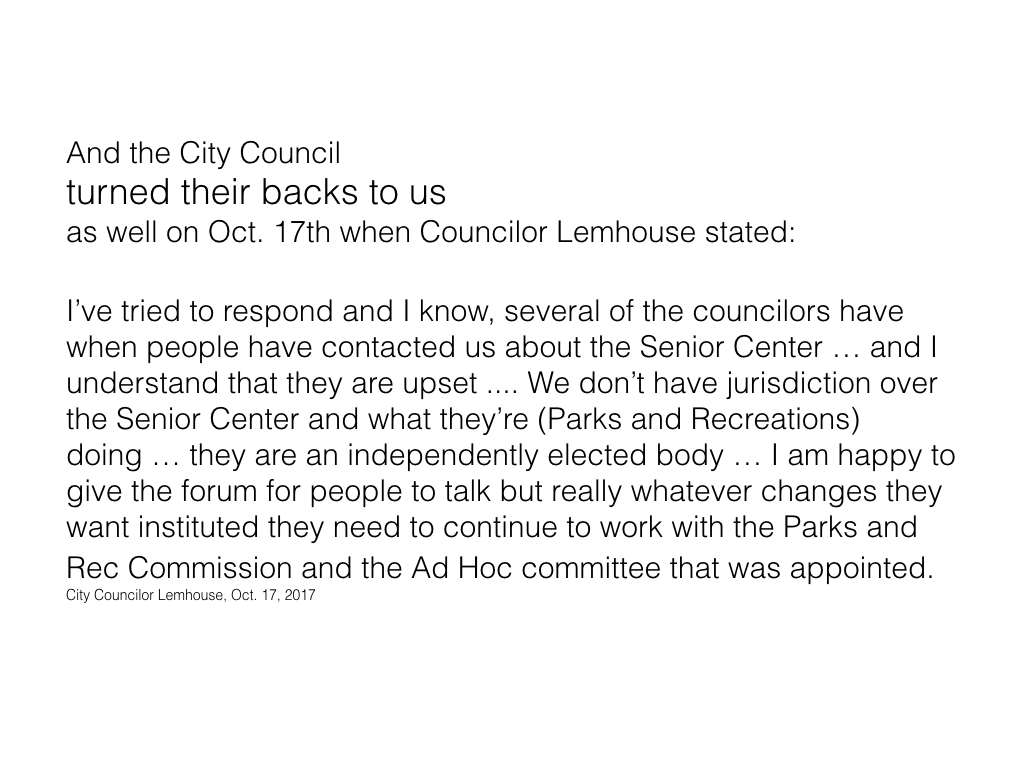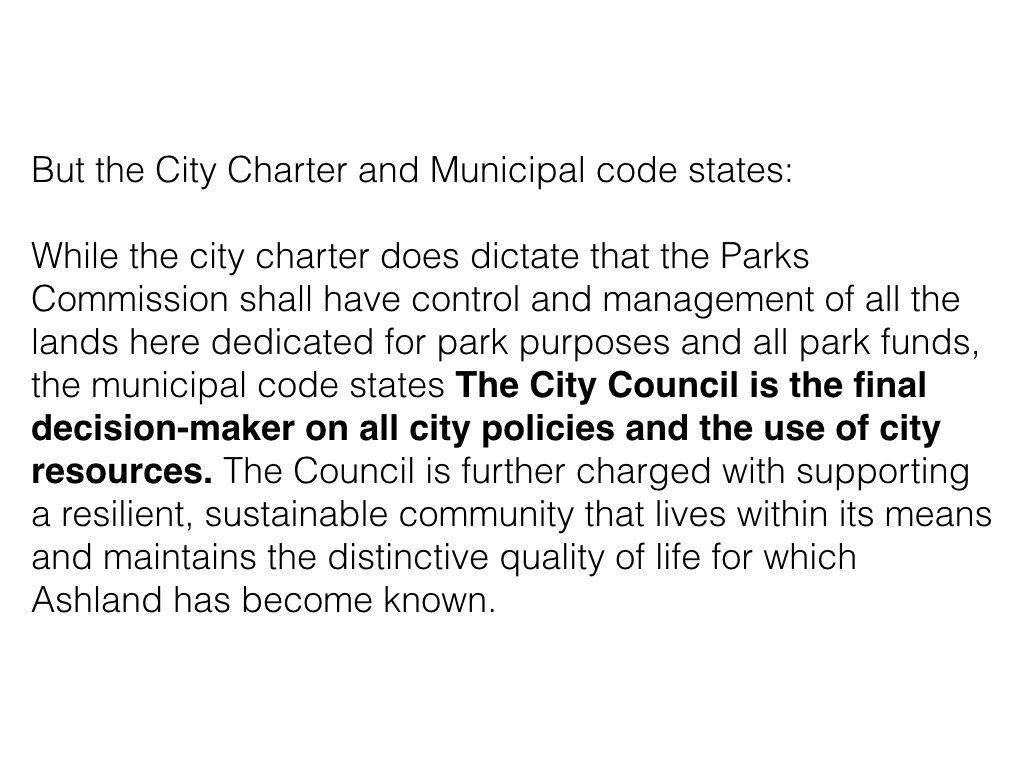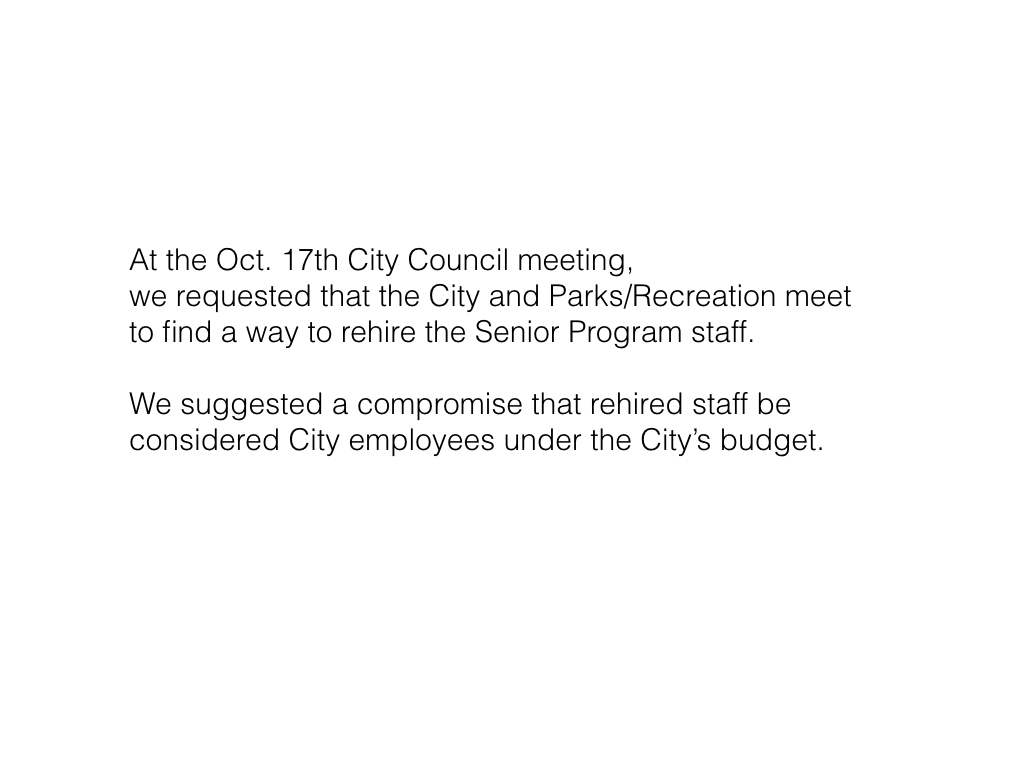 What had the Senior Program done the past 43+ years?
Listen to Mr Hersh tell the Commissioners what the Senior Program is all about
Ashland SOS Endorses the Recall
Ashland SOS endorses the recall of APRC Commissioners Gardiner, Lewis and Landt. Go to AshlandRecall.com for more information.
Senior Manager Christine Dodson's update at APRC Regular Meeting 1/25/16 - describes total program
Video of Nov. 9 and 11, 2017
Ashland SOS Town Halls
Flash Dance on Plaza Dec. 9, 2017
Video of Dec. 11, 2017
Senior Advisory Committee
Public Input/Demonstration
In the holiday spirit ... 12 Days of Ashland/Truth
Explanation of lyrics by KSKQ's Brain Labor Report 89.5 Weds. 9-10am
Ashland Sneak Preview's 27th Annual Readers' Survey
WORSE THING GOVERNMENT HAS DONE IN THE LAST YEAR?
"this year it was a runaway, as the Parks and Rec's Commission's handling of the Senior Center was viewed unfavorably by a lot of people."
APRC Meeting Jan. 22, 2018 - Public Input
after public input APRC approved all three Ad Hoc recommendations
In early January 2018 APRC contracted with a regional agency for one information and referral specialist to be at the Senior Center one day a week. The agency, located in Central Point, services two counties, Jackson and Josephine, with a staff of approximately ten employees. Outreach service remains unavailable at the Senior Center. Also, the replacement staff for the Senior Center have no experience with senior social services.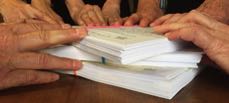 Signatures Verified! Recall Election is on!
Recall now so that we can get three new commissioners who will: 1) seek, listen and respect community input before making changes, 2) manage the budget much better to ensure Ashland's financial stability, 3) maintain well what we have before expanding or creating new programs, and 4) restore the local senior social services' safety net
The video below shows an interview with Christine Dodson that describes the local integrated social service program that the Ashland senior program lost when the Parks commissioners laid off the entire senior center staff, including Christine Dodson. The senior program was considered successful for 43 years. The laid off staff had a combined experience in senior social services totalling 72 years. They were all Ashland residents and knew the community well by residing in it over ten years each and 130 years combined residency.
The layoff action by the commissioners dismantled the effective and cost efficient local services rendered by the senior program. Since the layoff social services have been scaled back and no local outreach services are available by the senior center staff. This, in part, led citizens to initiate a recall effort on three commissioners.
We can immediately restore the lost social services by rehiring the laid off staff. By endorsing the recall we hope to replace the majority of commissioners to increase the chances for rehire.
Here is what was lost by Commissioners' actions
LISTEN TO SPEECH ON WHAT THEY HAVE DONE TO THE SENIOR PROGRAM:
Rally and Public Input at the last meeting of the APRC Senior Advisory Committee meeting, March 12, 2018
****************************************************
APRC Ad Hoc Senior Advisory Meeting, March 12, 2018 for public record
The recommendations are out and you have reached the end. What have you done? You built a big bureaucracy that costs almost twice as much to start and achieves no more than the prior program did in its low budget way. In fact it does away with crucial outreach services by senior center staff and allows the outsourcing of information and referral services to a regional agency.
The standard and practice criteria downloaded from the internet and used to develop your recommendations are only met by two cities in Oregon - Salem which has 7.5 times more people, and Lake Oswego which has almost twice as many people and twice the median household income. Implementing such an organizational structure with a far lower budget than those centers means increasing administration costs at the sacrifice of direct services to seniors.
Jackie Bachman, on August 9, 2017 spoke out in strong support of the prior senior program saying "what a jewel we have in our community right now." What made it special, what few other senior centers had, was its highly skilled staff with its institutional knowledge of 43 years and the local social services it could perform.
The senior manager ran the whole senior program. She had over 28 years experience in conducting senior social services. A part time employee who had 16 years experience in senior social services performed most of the outreach services to Ashland seniors. Three other part time employees, who had over 30 years combined experience helping seniors, assisted in the senior center operations including information and referrals. All staff were long time Ashland residents ... they knew the community and its resources well.
The staff gave personal customized local service that a regional phone system and website could never come close to. Nowhere do you recommend a staff position to have social services experience to be able to provide local outreach to Ashland seniors. It is evident that APRC did not value the local services that made Ashland's senior program special, and neither do you.
The prior qualified staff also made daily judgments in the center operations and activities that made seniors feel safe and comfortable. This is not happening with the current staff who have no experience in social services. Core services have not been maintained. Outreach services are no longer conducted and skilled information and referral services are limited to one day a week by a non-local contract individual. The current staff have had instances where seniors' confidentiality and privacy have been violated. A senior has fallen and broken his hip at the center. Accidents like this never happened while Christine Dodson was manager for eleven years. A center employee offered a senior over the counter medicine which the prior staff would never do because of liability issues. A center employee offer a senior a space heater ... another liability issue.
Your long laundry list of job and program descriptions allow APRC to select ones that fit its original plans, and still claim that it is consistent with your recommendations.
Ashland's "jewel" has been tossed away by APRC and the committee has buried it.